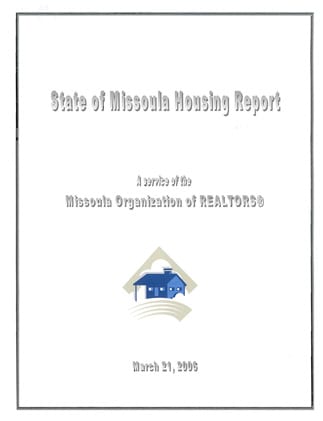 The purpose of the State of Missoula Housing Report is to give a general overview of the housing in Missoula. The report will compare 2005 to previous years and give a broad picture from a variety of data sources. Specifically the report addresses: a) single family housing; b) land costs; c) investing in Missoula Real Estate; and d) where the community growth is corning from.
Missoula experienced a strong housing market between 2001 and 2004. 2005 proved to be another solid year for home sales. The demand for housing in Missoula is on the rise and appears not to be cooling anytime soon. Contrary to common perception, the demand is fueled not so much by people moving here from out of state, including those who had lived here before and are returning, but by the numbers of people who are growing up here and want to stay.
Many factors contribute to how strong or weak the housing market is every year i.e. supply and demand, interest rates, cost of building, land prices, and more. However, there are many misconceptions about what drives the cost of a home. A Realtor can do a market analysis for a home, but it is the market that determines the price that a seller is willing to accept and a buyer is willing to pay. To put Missoula growth in simple tenus, it is a matter of supply versus demand and the market is setting the price of a home.
In order to gain a better understanding of the market in which its members live and work, the Missoula Organization of Realtors® (MOR) has sponsored a series of public forums called Community Through Business (CTB). According to national guest speakers at CTB, Western Montana has the fastest growing counties in the state with Ravalli, Lake and Missoula ranking number 1, 5, and 8 respectively. Information from CTB speakers also showed the City of Missoula is the 59th fastest growing metropolitan city in the United States.
According to the 2005 University of Montana Bureau of Business and Economic Research report, Missoula home prices increased 9.6 percent last year. According to the National Association of REALTORS® (NAR), the number of existing home sales in Montana increased by 9.8 percent. The numbers support the fact that many people want to live here and that drives the size of our community. This trend will continue as long as the rivers flow, sun shines, and Missoulians continue to be, well … Missoulians.