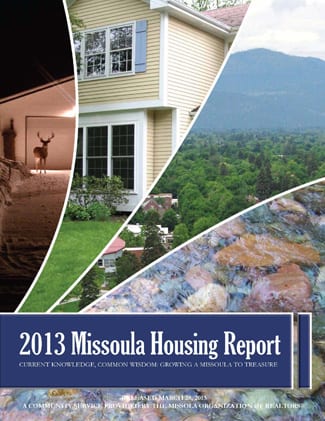 By almost all measures it looks like the housing market is finally on the rebound. With the number of home sales nationally at its highest level in five years and the median home price increasing, there is definitely reason to be, at least, cautiously optimistic. The fact that the trend in Missoula is mirroring the national trend means that Missoulians also have good reason to be optimistic.
An increase in home prices is great for homeowners but not great for those wanting to buy their first home. Fortunately, the ability of people to buy homes is looking good as well. Lawrence Yun, the chief economist for NAR stated that "The housing affordability index shows that the national median income of families was almost double the income needed to buy a median-priced home in 2012, so most buyers are able to stay well within their means. Even with rising home prices, conditions are expected to stay very favorable with the index averaging 161 in 2013, which would be the third best on record."
The increase in income and decrease in interest rates has allowed homes in Missoula to be more affordable in 2012 despite an increase in median home prices. With a 20 percent down payment, a four person household has an HAI of 133. However, since most families do not have that ability, the actual HAI is 101. If median home prices continue to go up, Missoula will face the recovery still dealing with issues with housing affordability.
Pairing these indicators with today's low interest rates, the real estate market should continue improvements throughout 2013. It is important to remember, however, that not everyone is able to take advantage of the current interest rates to buy a home. While lower interest rates are enticing for homeowners who want to refinance their existing mortgages, current lending standards remain tight and there have been instances where seemingly qualified buyers have come across issues obtaining financing.
While the signs are pointing in the right direction, this economic recovery has been longer and more complicated than most of us hoped for. The Bureau of Business and Economic Research stated in its Economic Outlook 2013 that "There are probably too many uncertainties directly ahead for the national economy to hope for much more than modest growth in 2013. But…in many ways the U.S. economy is in better position for faster growth than it has been in years."
While growth may still be slow, the local market has finally returned to "normal" absorption rates suggesting we are as close to what is expected to be a normal market in terms of absorption (supply and demand) than we have seen in over five years.
But let us not forget that in Missoula we are still experiencing higher-than-average median home prices and lower-than-average median incomes. Additionally, distressed sales in Missoula continue to rise. Couple these issues with an increase in poverty and homelessness, and locally we still have much work to do.